For some beginning band students, it's hard to choose what musical instrument to play. Each band instrument has something intriguing to offer, whether it be the shape of the instrument itself, where that particular instrument section sits in the band, the sound that is produced when the musical instrument is played, what it is made of, and much more. But there are many great reasons to play trumpet in school band:
♦ Trumpets are loud and often play the melody. If you want to be noticed, the trumpet might be right for you.
♦ Trumpets have a bright, brilliant sound, and they are easy to pick out among the other instruments. In addition to playing the melody a lot, they tend to be used in solos, too.
♦ From classical to rock, pop, soul, religious, country and more, the trumpet is used in all styles of music. No matter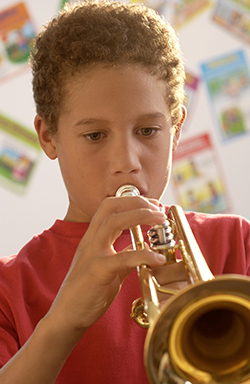 what kind of music you like best, the trumpet is/has been a part of it.
♦ Playing a few notes on the trumpet can be accomplished very quickly, so at least initially, trumpet is a pretty easy instrument to play. However, like all of the band instruments, it takes practice to become really good at it.
♦ Trumpet is the smallest of the brass instruments. It is fairly compact and easy to carry, and there aren't a bunch of parts to put together. With just the instrument itself and a mouthpiece, you are good to go.
♦ The trumpet is versatile, and can play in most any group – play in the school band, a jazz band, an orchestra, accompany a choir, play a solo – the choice is yours.
♦ There has been and continues to be plenty of music written for trumpet, so you'll never run out of things to play.